By Morgan Hall
Inventory management is the planning and monitoring of product inventories.

To meet the competitive priorities of the organization companies must effectively manage their inventory.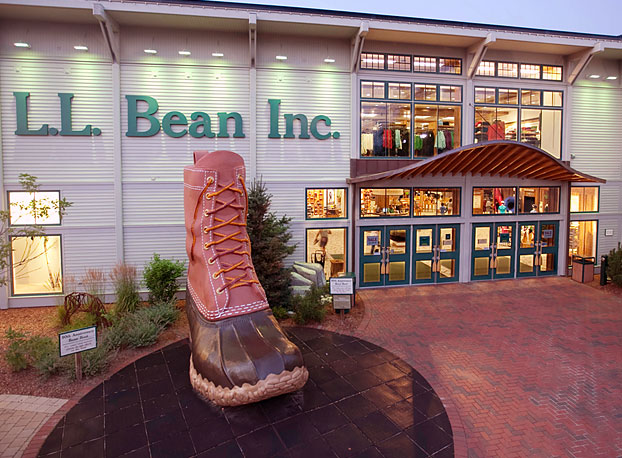 Get an inside look at L.L. Bean's largest distribution center here:
It started with an all-weather boot.
In 1912 Leon Leonwood Bean founded a mail-order catalog company.
The original catalog was four pages long featuring their one product, the Bean Boot.
Today, the company has extended its product lines far beyond the boot.
Bean now offers clothes, camping gear, and home items; it's even helped Subaru outfit its car interiors.
L.L. Bean currently has 33 retail stores nationwide, as well as stores in Japan and China.
As if that wasn't enough, L.L. Bean sends its catalogs to over 160 countries.
To more effectively manage its inventory, L.L. Bean created two inventory pools.
It separated its retail and catalog /online sales and now operates two distribution centers in Freeport, Main.
The distribution center for the online/catalog sales is the largest building in the state.
Freeport manages to process around 145,000 orders in one day during the winter holiday season and over 1 million orders in November and December.
That's a lot of inventory to manage, 128,000 unique items (SKUs) to be exact.
In the distribution center for the online/catalog sales there are over 30 miles in shelves, each towering 36 feet-tall.
Bean's pickers need to be in great shape because they can walk over 8 miles in one workday.
However, L.L. Bean was struggling with effectively managing their inventory.

They found they consistently had too much seasonal inventory left over.

These items would not generate sufficient revenue to cover the expense of storing them.

L.L. Bean needed help to avoid having to buy another storage building (and in cutting inventory expenses with these obsolete items that need to be written off), so they hired Fortna for help.
Fortuna suggested dividing the stock into "core" and "non-core" items.

Core items are things that are sold all year and things L.L. Bean does not want to be out of.

Non-core items are typically seasonal, or items that L.L. Bean still wants to carry, but do not sell in large quantities.

The non-core items were given a flag noting their expected lifecycle.

The result: smaller and more frequent orders, and as the seasons wind down, L.L. Bean starts to reduce its stock of that item by limiting orders and having special seasonal sales.
Once L.L. Bean got a better grip on its inventory management it was able to close a 150,000 square-foot warehouse that it used for extra storage.

Two exisiting distribution centers took in the inventory from the old warehouse.

Its new inventory management strategy doesn't mean that L.L. Bean carries a less extensive product mix.

Instead, it adjusts the amounts of items in stock to match anticipated sales more accurately.
Sources:
"L.L. Bean's Smarter Stocking Strategy." Supplychainquarterly.com. Ed. James A. Cook. CSCMP, 2011. Web. 29 Jan. 2013. <http://www.supplychainquarterly.com/topics/Strategy/201104llbean/>.
Go Behind-the-Scenes at L.L.Bean with Rob Caldwell
. Perf. Rob Caldwell. WCSH6, 2010. News Story. YouTube. YouTube, 17 Dec. 2010. Web. 29 Jan. 2013. <http://www.youtube.com/watch?v=o_t5spwDpl0>.